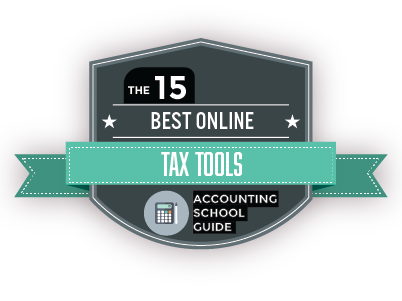 The IRS expects more than 80% of people to file taxes electronically this year, which comes out to around 124 million people.
The reasons are pretty simple: convenience, affordability, and accuracy. Compared to hiring a bookkeeper, CPA, or other accountant to file taxes on your behalf, most tax software services are cheaper and earn you the same refund. They're also easy to use: answer a series of questions about your income, assets, and other financial information, and the program will determine the appropriate deductions. In most cases, if you're not the exact form or schedule you need to be using, the service will help you there, too.
To help you find the best software for your needs, we've compiled a list below, including the most popular, affordable, and underrated tax tools for individuals, as well as the best accounting tools for small business owners. Price tiers are bulleted as well, but note they only cover federal filing; states may increase total costs.
The Most Popular Tax Software
Intuit TurboTax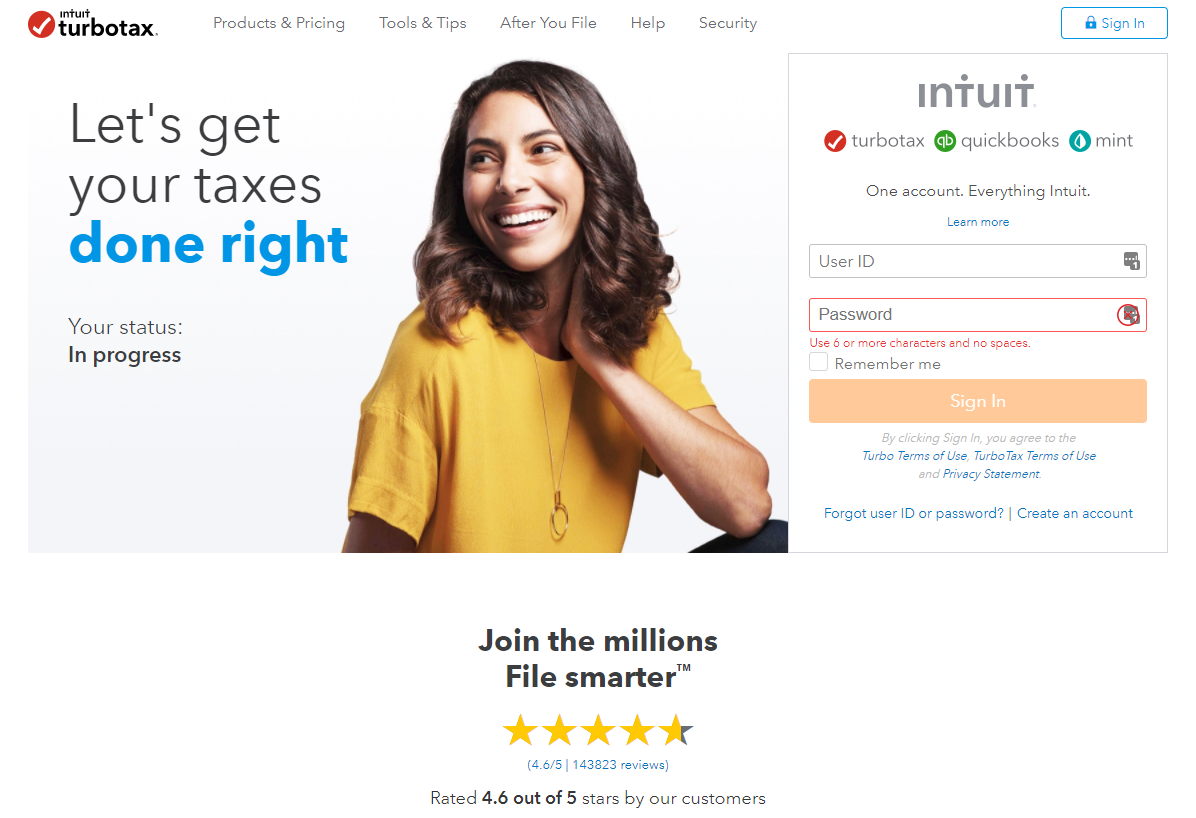 PC Mag, NerdWallet, and The Wirecutter all rank Intuit TurboTax at or near #1 on their rankings for the best tax software, highlighting Intuit's seamless user experience, comprehensive library of forms and schedules, and extensive help resources. (The Wirecutter has ranked it #1 for five years running.) As the software's name suggests, users enjoy an intuitive interface that's low on jargon and high on laymen's terms. Plus, with more than 350 tax deductions to choose from, Intuit users maximize their refund potential. Additional features include live on-screen help, storage of past returns, and the option to import prior returns from competing tax software services.
Pricing Tiers: Free; Deluxe ($59.99); Premier ($79.99); Self-Employed ($119.99)
TaxAct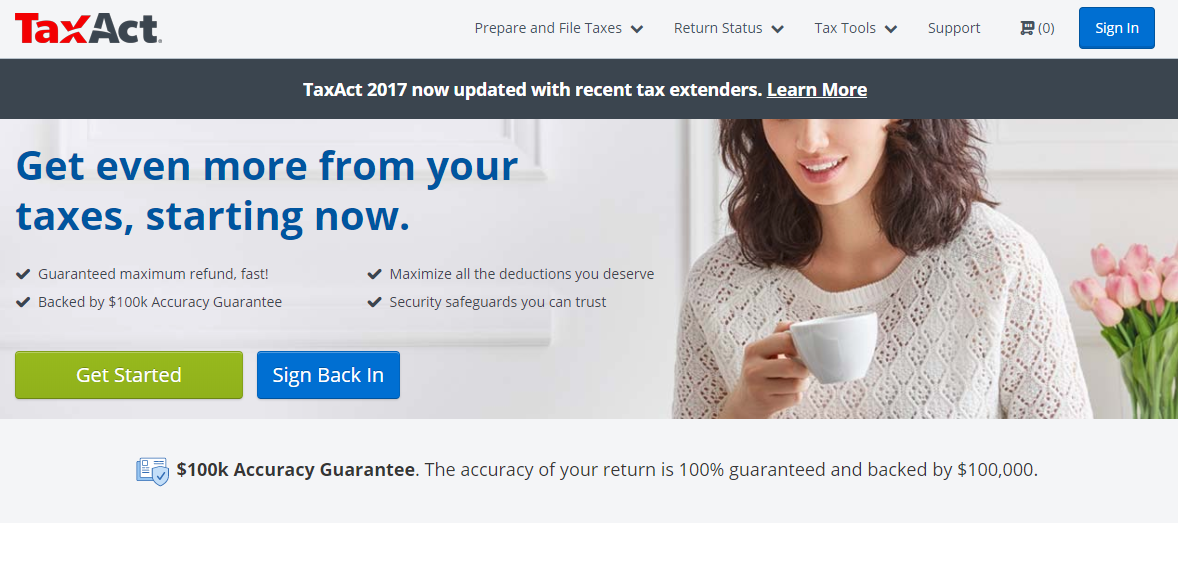 TaxAct combines ease-of-use, quality support, and excellent affordability. In addition to being one of the cheapest online programs, users are also guaranteed a price lock, meaning you won't pile up unexpected fees for specialized forms or schedules. Better yet, TaxAct offers free phone support from a CPA or Enrolled Agent if you run into any problems. The language is simple, the interface is straightforward, and if you're in a rush or without access to a computer, the mobile platform recently underwent a redesign (feel free to save your work and switch between devices, as well). The software does not include in-house auditing support, but partner services are available and include 3 years of service.
Pricing Tiers: Free; Classic ($17); Premium ($35); Self-Employed ($55)
H&R Block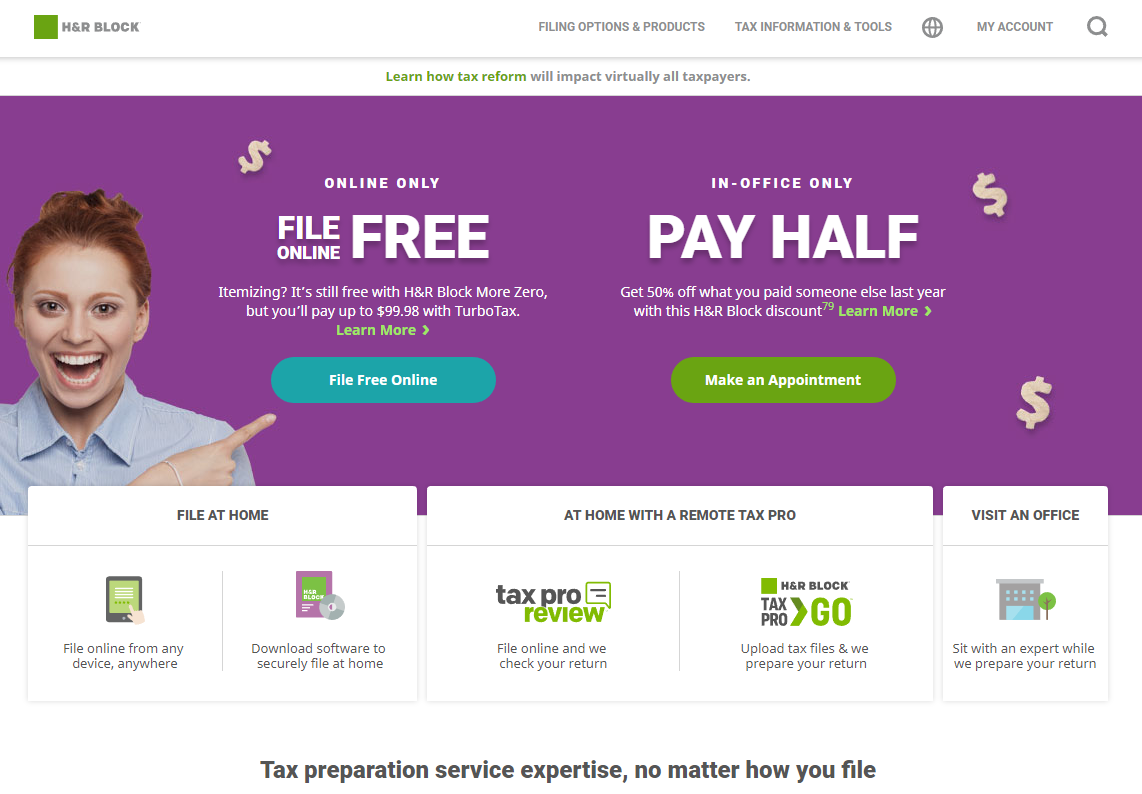 With over 60 years of experience, H&R Block continues to be one of the industry's most trusted tax preparation services, and its online software is no exception. Pages are navigable, the free software includes all three 1040 forms (1040EZ, 1040A and regular 1040 with a Schedule A), and H&R Block is making a concerted effort to become a top-tier destination for general support. First, there are over 12,000 brick-and-mortar stores across the U.S.: if you want human-to-human help, this is a good place to start. Second, for its premium software options, you'll gain access to the Tax Pro Review, which consists of the company's "most tenured and experienced tax professionals."
Pricing Tiers: Free; Deluxe ($54.99); Premium ($74.99); Self-Employed ($94.99)
TaxSlayer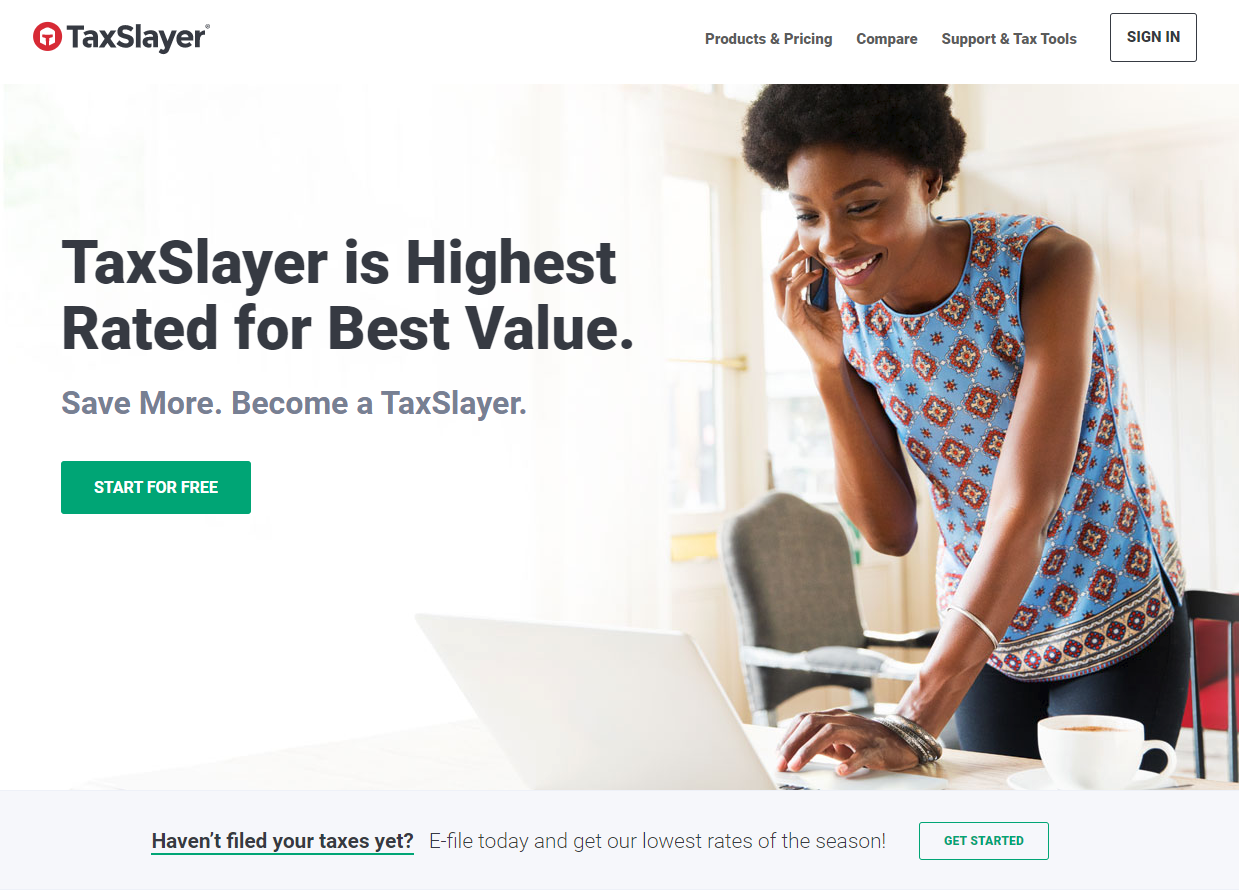 TaxSlayer's premium price points are generally lower than the competition, with little decline in quality of service. Additional major highlights include an intuitive user experience, minimalist design, and wealth of support services. TaxSlayer's unique error checker sends alerts (and in some cases autocorrects) filing mistakes, and the mobile app features a W-2 photo upload option: just snap a picture of your form, and the software autofills relevant information, saving you time and tedious data entry. Most tiers come with free auditing assistance (freelance and other Schedule C-filings do not), which includes up to 3 years of service. Last but not least, TaxSlayer guarantees a maximum tax refund or else offers a full refund of services.
Pricing Tiers: Free; Classic ($17); Premium ($35); Self-Employed ($55)
Popular Tax Software For Budget Filing
Liberty Tax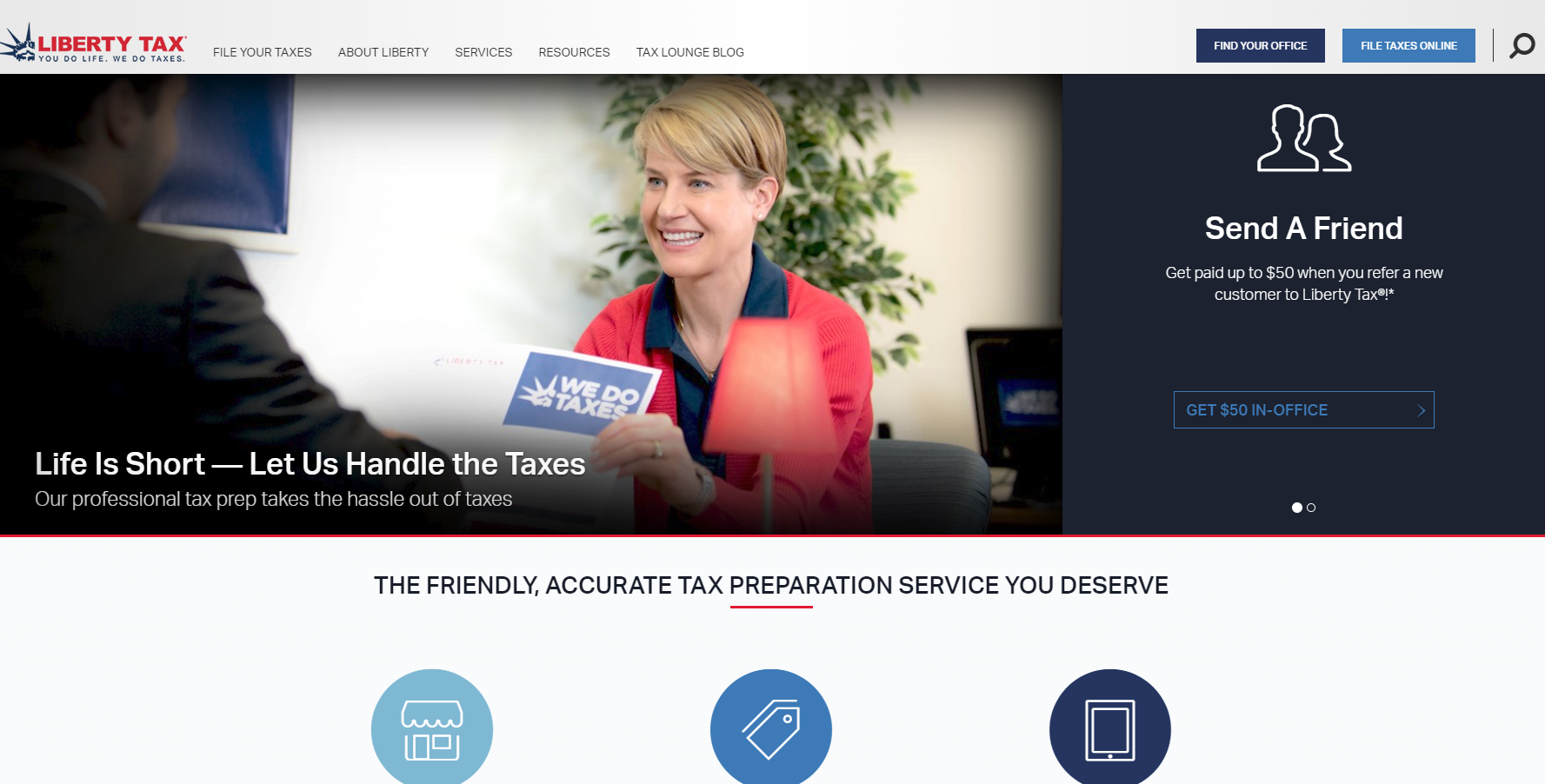 Liberty Tax has been around since 1997, but remains of the lesser-known tax services on the market. No more! Ranked among the best online tax prepare software by PC Mag, Liberty has a basic design and and comprehensive tax coverage. Its biggest detractor is no free filing and state files are slightly pricey. Still, for individuals, families, and small businesses with complex tax situations, you can actually save a lot of money in comparison to the competition. (The basic option is primarily designed for individuals with a W-2 who want to itemize deductions.) Plus, unlike many of its biggest competitors, Liberty offers free in-person support at any of its 4,000+ brick-and-mortar stores. Additional features include advance loan services and easy back-and-forth navigation.
Pricing Tiers: EZ ($14.95); Basic ($19.95); Deluxe ($39.95); Premium ($69.95)
Jackson Hewitt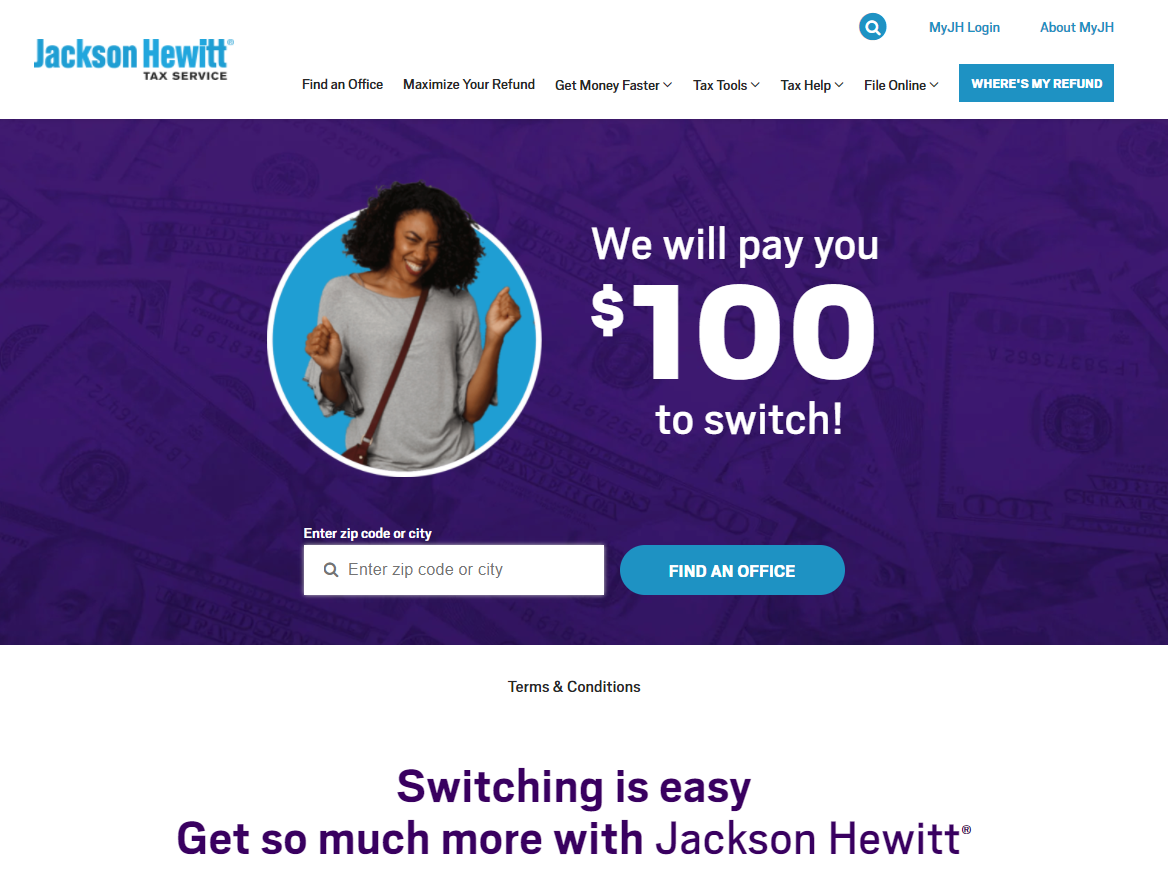 Founded in 1992, Jackson Hewitt is primarily known for in-person accounting services and only recently entered into the software market. At times that inexperience shows: the interface and navigation are confusing, and the support section is spotty. Still, the company makes up for technical weaknesses with highly affordable price points and a 100% free option for federal and state returns on a 1040. The review process has been improved, and Jackson Hewitt users can file all major IRS forms and schedules. Free and premium users have an accuracy and maximum refund guarantee.
Pricing Tiers: Free; Families and Retirees ($34.95); Complex ($54.95)
FreeTax USA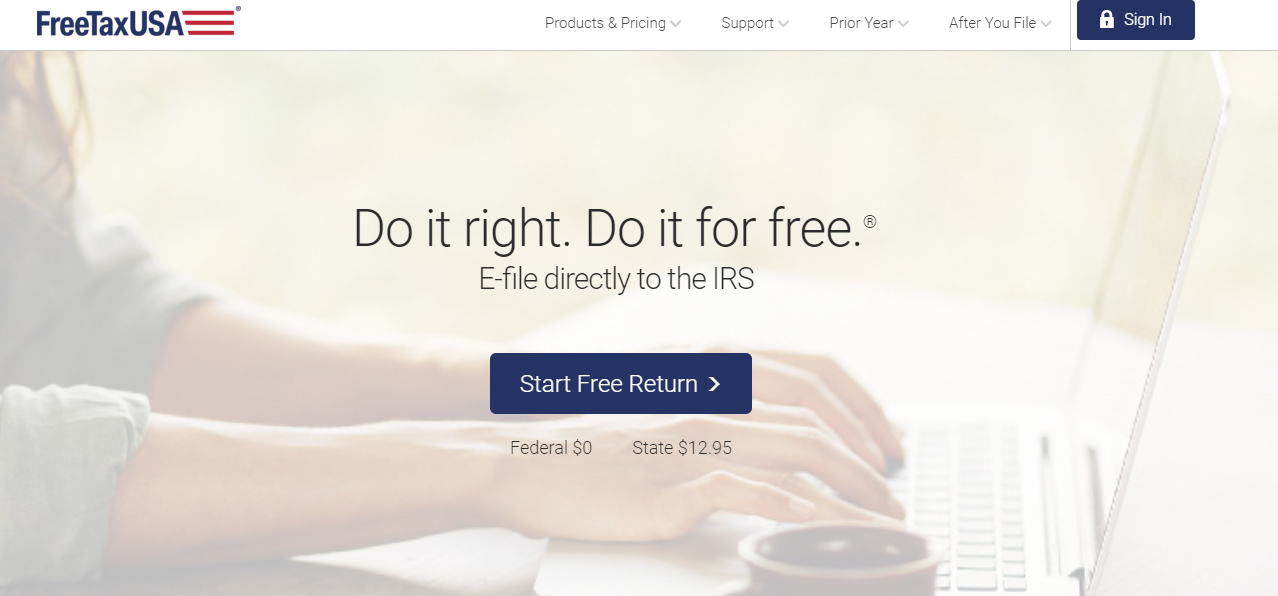 Fast, free, no frills: that's FreeTax USA's calling card. Launched in 2001, the software is ideal for filers with simple tax situations, but really anyone can stand to gain from the incredible affordable rates and comprehensive coverage, including Schedules A, B, C, D, E, and K. You'll get immediate alerts for suspicious-looking entries, and customer support is excellent, particularly for the premium tier which receives priority service and live chat options. To be sure, FreeTax USA is a cut-rate preparation service, which comes with a few downsides. The site is a little clunky, and experts warn first-time filers may prefer a more seamless step-by-step interface; support at the free level is DIY and difficult to navigate. Nonetheless, for the price, FreeTax is tough to beat.
Pricing Tiers: Free; Deluxe ($6.99)
CreditKarma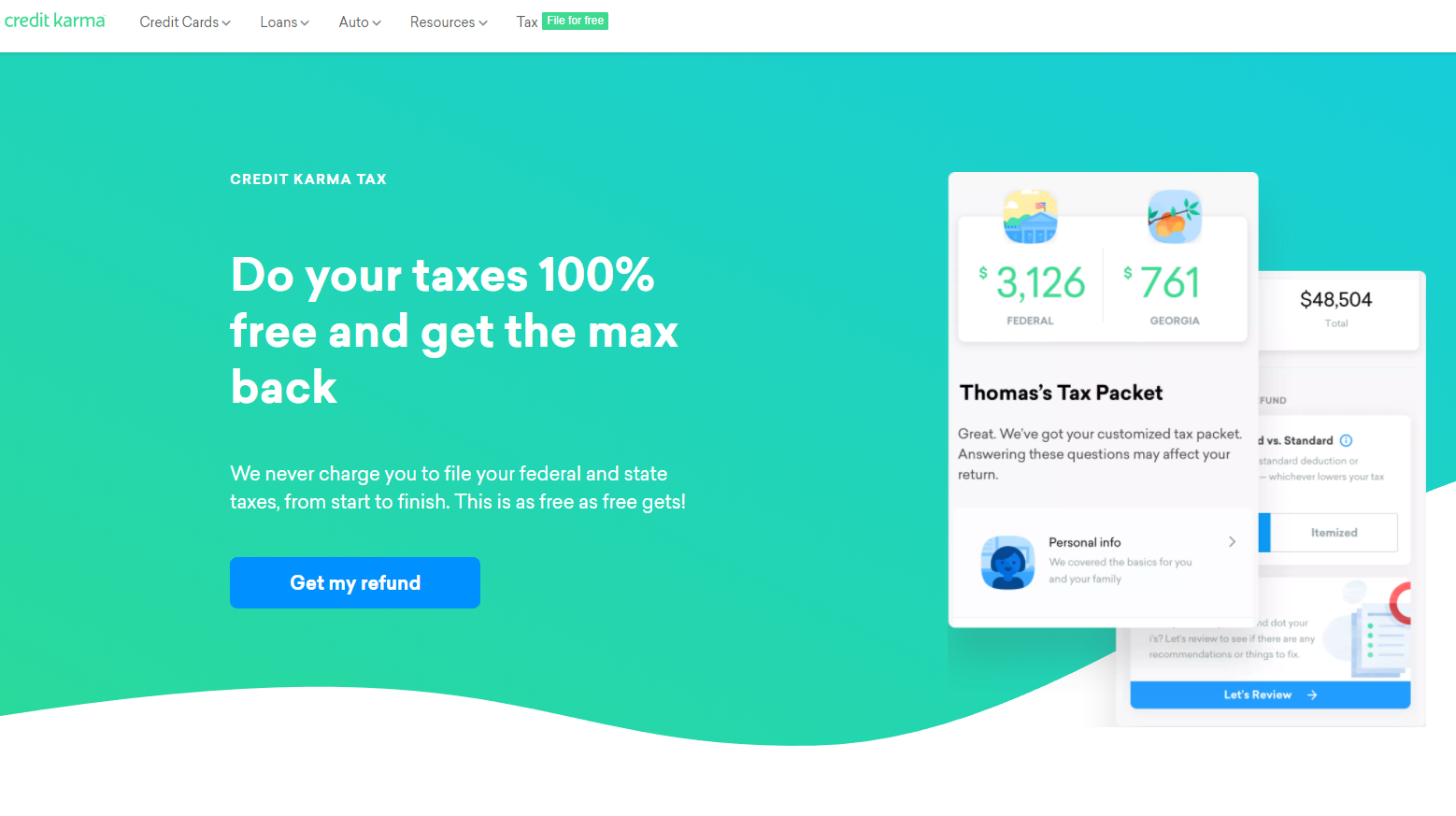 CreditKarma is widely known as a personal finance and credit monitoring company, but debuted its tax preparation software in 2017. Of course, some growing pains are to be expected: while the platform boasts the same clean, crisp interface as the rest of the site, some contend that functionality remains a work in progress. Navigation can be difficult if you've never used the software before (which, given its launch date, is most), and help content is slim. That said, a new round-the-clock support chat is a nice feature, and – the kicker – CreditKarma is completely free. By that virtue, if you have a relatively simple tax situation and standard form or schedule, CreditKarma is definitely worth a shot.
IRS Free File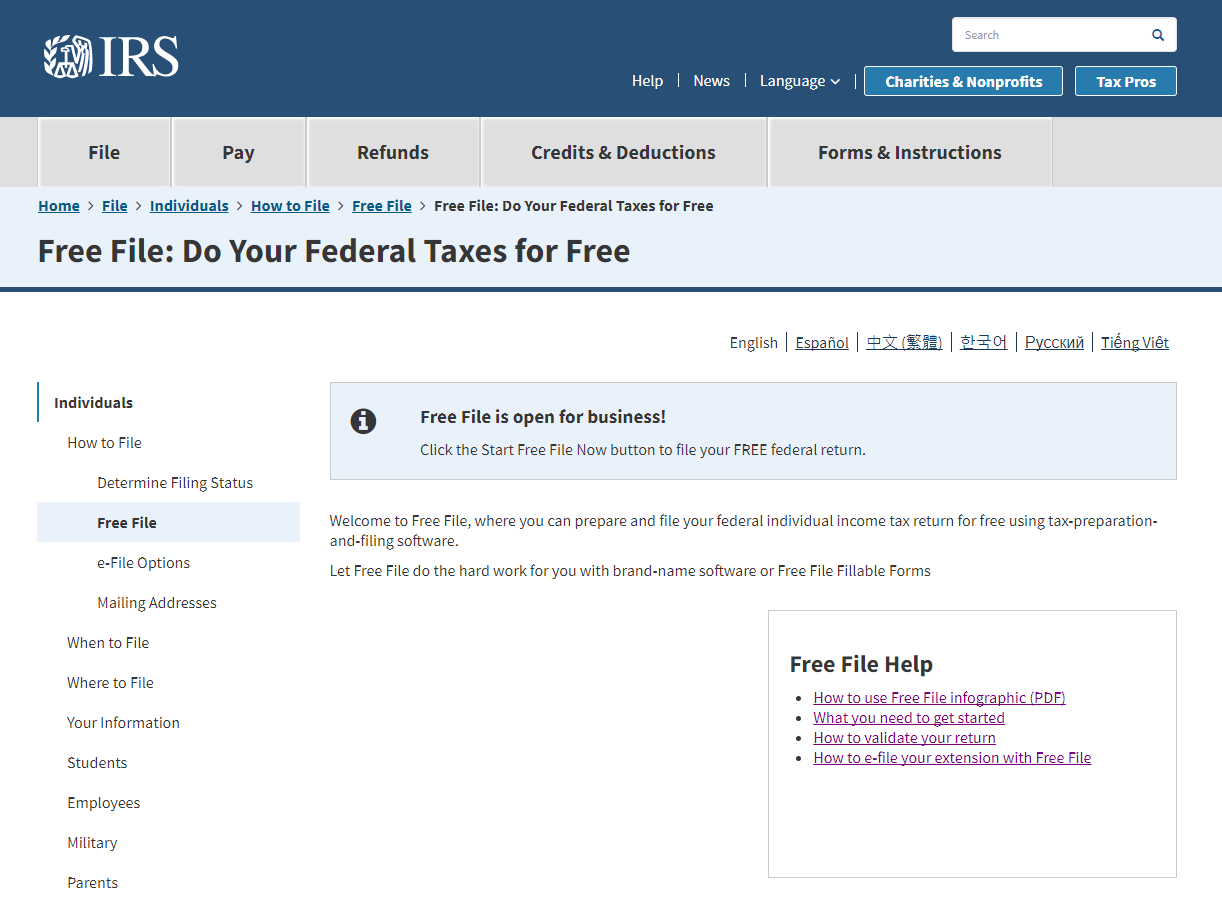 The IRS's online Free File software is the ultimate DIY service: a truly free, independent, and old-fashioned tax methodology. For that reason, if you're a first-time filer, there are probably better options: Free File has the full library of IRS tax forms and schedules, but offers zero support beyond the most basic instructions. All calculations are up to the filer, and you have to know how to fill out each form correctly. Obviously if you make a mistake, it's on you. On the other hand, if you're an experienced filer with a relatively un-complex tax situation, Free File is as good as it gets. All your information is saved by the session, and the layout and interface are clear. (Note: there are different modules for income above and below $66,000.)
Underrated Tax Software For Budget Filing
TaxPoint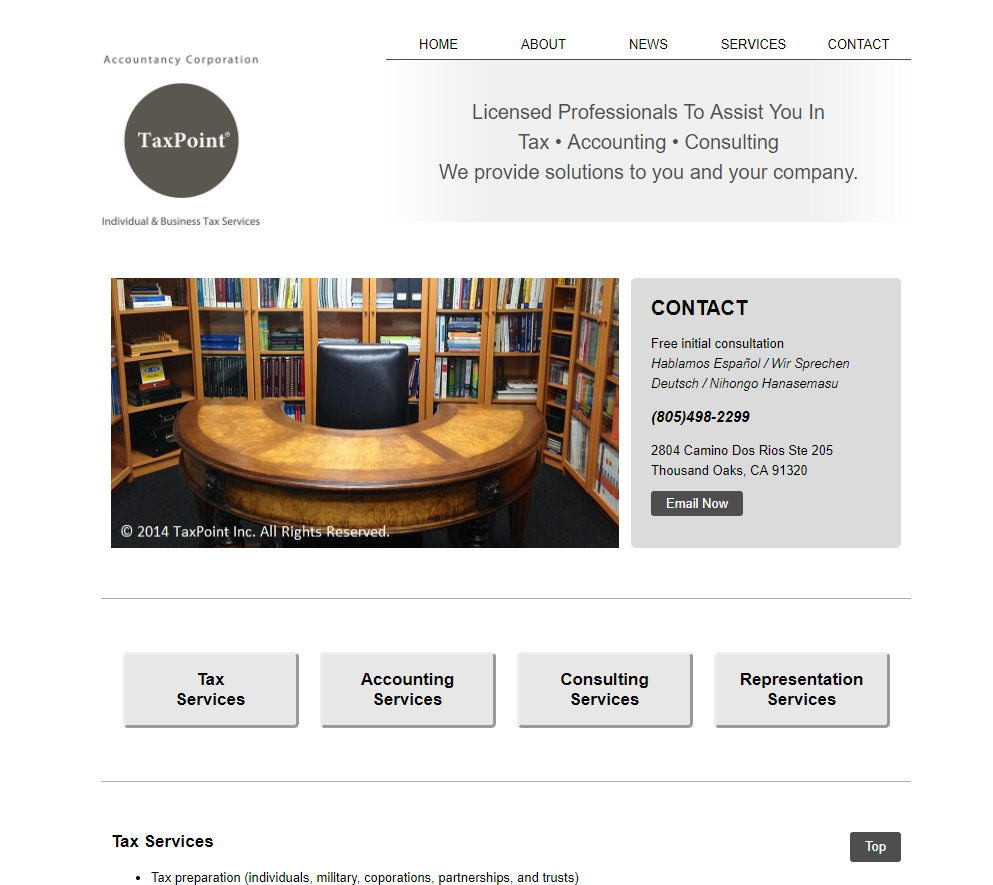 TaxPoint is cheap, user-friendly, and expert-driven (founded and run by a CPA). Still, the most important feature remains overall service – does it work? – and though TaxPoint remains largely overlooked, it offers equal to superior results than some of the above brand names. Users have the option to file forms independently or via a guided interview plan similar to other tax software. The Federal Free Edition is ideal for 1040EZ, 1040A, and some W-2 forms, and includes free bilingual email, live chat, and phone support. Deluxe supports Schedule A and EIC (Earned Income Tax Credit) filers, and the Home & Business Edition offers a more nuanced review for freelancers, small business owners, investors, rental property owners, and farmers (Schedules C, D, E, and F.)
Pricing Tiers: Free; Deluxe ($14.95); Home & Business Edition ($34.95)
eSmart Tax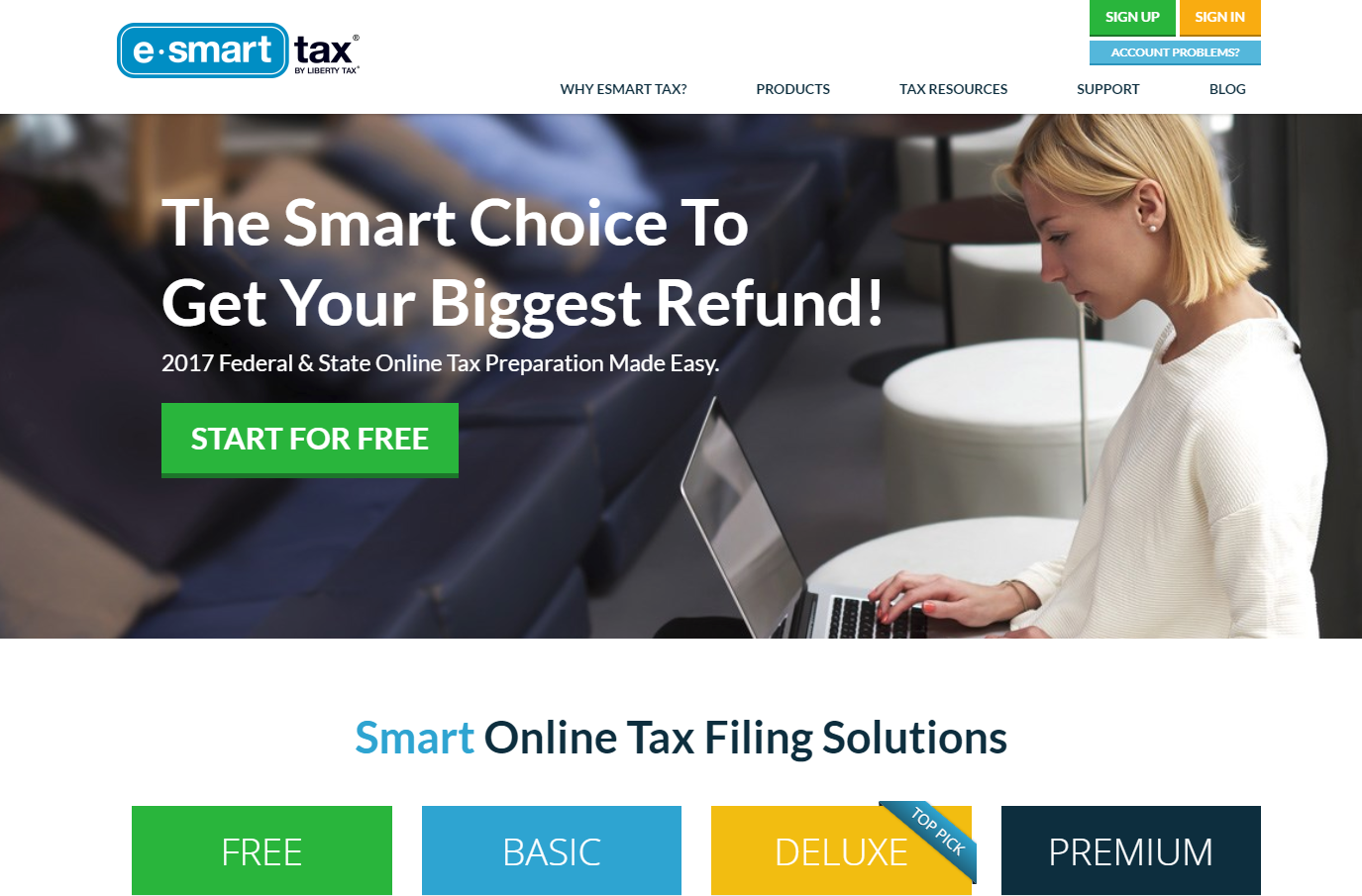 eSmart Tax is owned by Liberty Tax, which we profiled above; price points are similar, with eSmart offering a few more middle-of-the-road options and a lower max premium. That means broad flexibility: filers on a simple tax form will pay nothing; moderately complex filings – including for freelancers, small business owners, and landlords (Schedules C, D, and E) – have multiple tiers to choose from, many of which are cheaper than the most popular tax software. As with most services, users are guaranteed a maximum refund, and resources are extensive: form storage and importation, live chat support, free and enhanced audit options, and an extensive FAQ library.
Pricing Tiers: Free; Basic ($24.95); Deluxe ($38.95); Premium ($49.95)
E-file.com

E-file promises speed and savings: file your taxes in under 15 minutes and earn your refund as soon as possible. E-file offers a range of cheap to moderate price points at multiple tiers, all of which include an accuracy guarantee. Granted, this isn't the most attractive or intuitive interface, and first-time filers might get confused with some minor DIY requirements; support content and customer service is mediocre to below average. Nonetheless, the software includes near comprehensive coverage and can be used for individuals, families, small business owners, and retirees. Particularly if you're short on time or have a simple tax situation, E-file is worth checking out as a bang-for-your-buck.
Pricing Tiers: Free; Deluxe ($18.99); Premium Plus ($34.95)
Best Accounting Software for Small Businesses
QuickBooks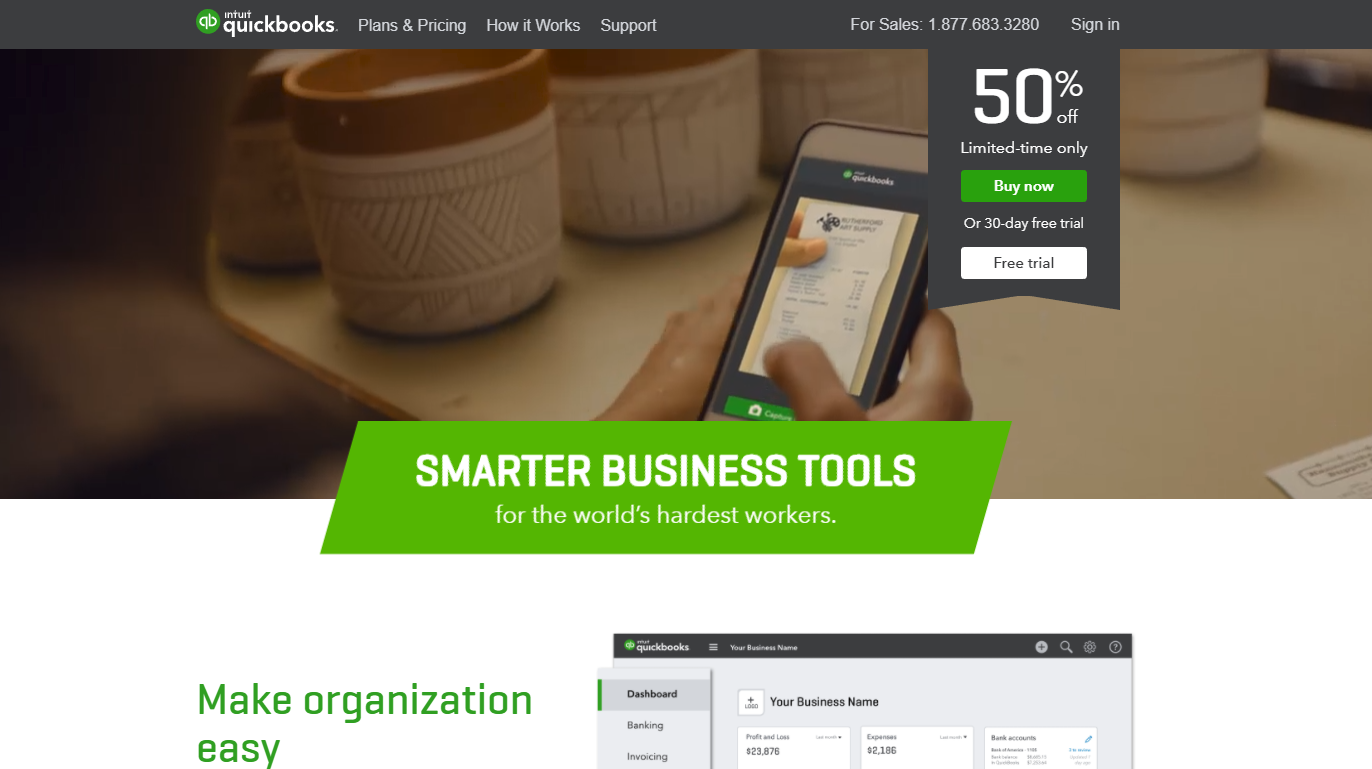 Synonymous with intuitive, user-friendly accounting, QuickBooks continues to be the go-to platform for small businesses. Functionality and flexibility are key, as is QuickBooks' seamless setup wizard that will get you up and running in no time. From there, you can customize tools – Classes, Custom Transaction Numbers, Purchase Orders – as well as tailor layout, settings, and other tools to fit your business's needs. Additional pros are comprehensive payroll support, transaction forms, and hundreds of add-ons. If you're looking for the tried-and-true option, this is your best bet.
Pricing Tiers: Starts at $15 per month
Wave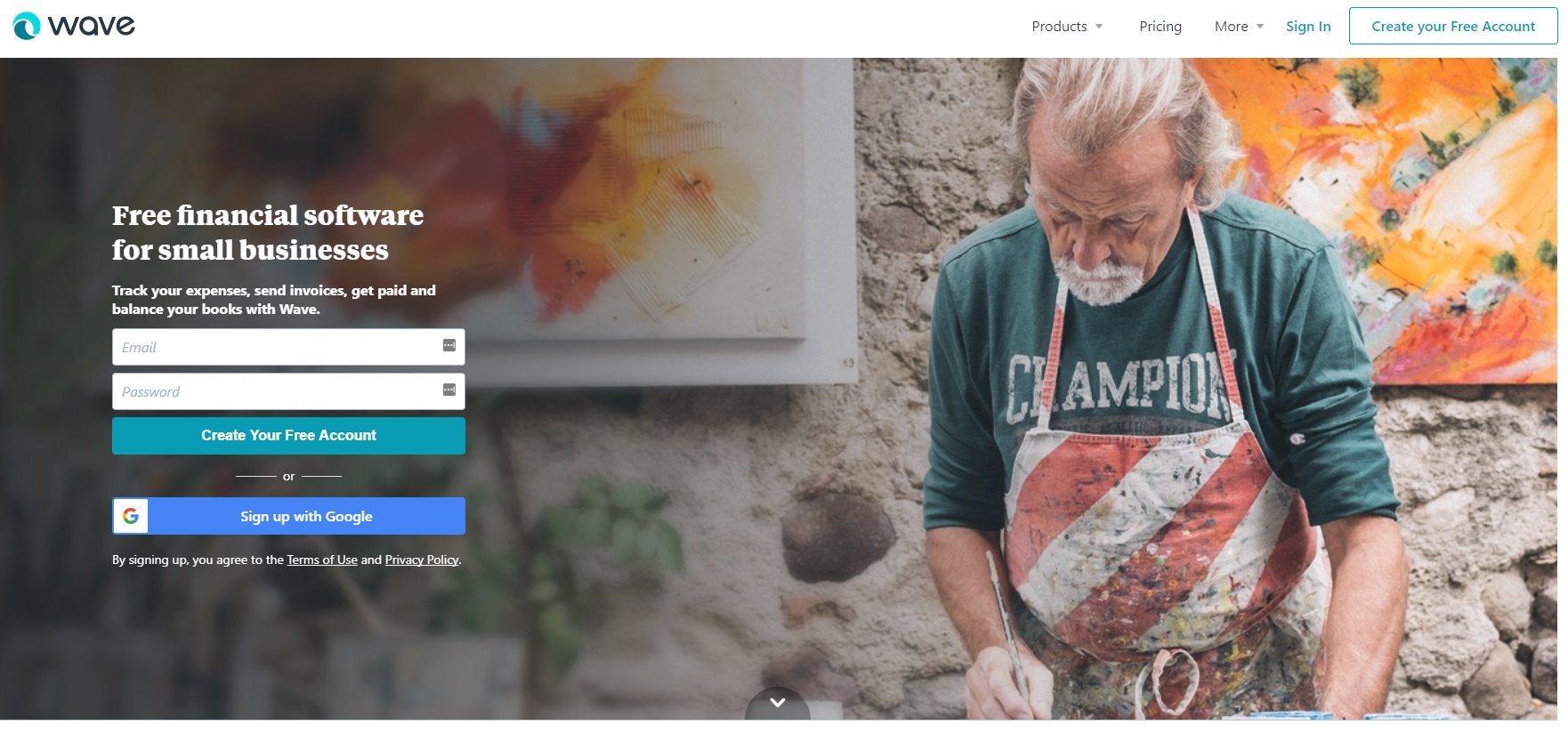 Need a reason to try Wave? Here's one: for many users it's 100% free – not a bad start. Otherwise use of payments, payroll, and premium support go for $19 month. Either way it's exceptionally cheap, which is why Wave is quickly becoming one of the most popular accounting software services for freelancers, contractors, sole proprietors, and entrepreneurs. Top-notch user experience is another key feature: few competitors match Wave's interface in terms of clean, intuitive, and flexible use. Tools are customizable, and the standard double-entry setup keeps everything as simple as possible, checking off another must-have box for freelancers and self-employed professionals.
Pricing Tiers: Free for standard tools; $19 per month for premium services
Xero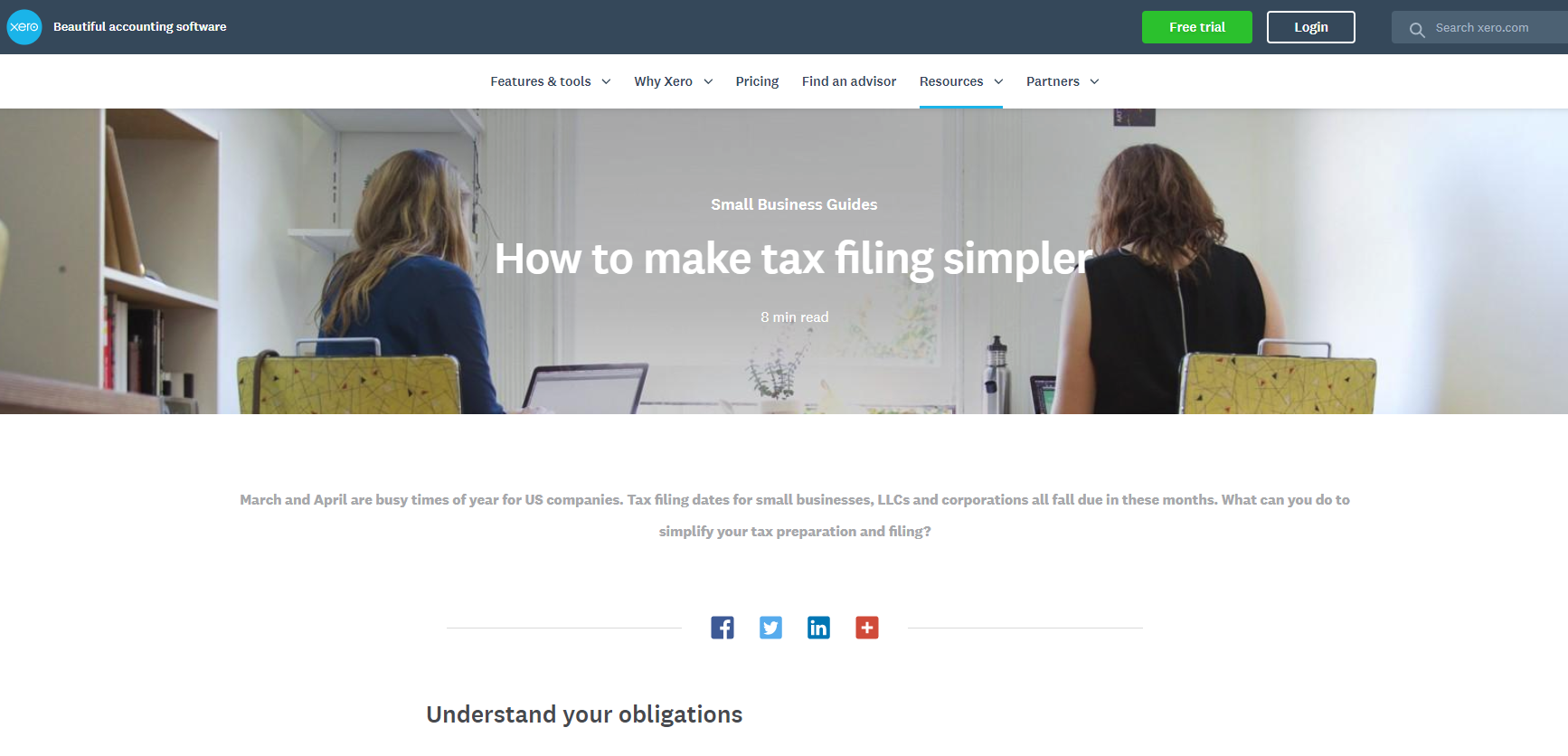 Based out of New Zealand, Xero has been named the Forbes #1 Innovative Growth Company twice and hailed as Quickbooks' biggest rival – with good reason. Like Quickbooks, Xero works for large and small businesses alike, with a wealth of customizable tools, advanced features, as well as add-on and integration opportunities. Compared to the two software options above, Xero may be slightly more difficult if you're unfamiliar with accounting basics, but customer support is excellent, and the company offers access to a network of trained advisors. The starting price is very affordable but restrictive: you'll be limited to five invoices and quotes, five bills, and reconciliation for 20 bank transactions (no payroll). The next tier up adds unlimited billing and invoice functionality as well as payroll for up to five people.
Pricing Tiers: Starts at $9 per month