Pennies are often unfairly overlooked, but their presence on a share price can make the difference between a thriving company and one in apparent financial trouble. Sure, there's not much you can buy with just a handful, and they don't have quite the same allure as a wad of bills; however, as anyone with a penny jar can testify, they soon add up. Several artists have also seen the possibility in the spare change we carry around, putting it to good use in pieces that show how currency can have much more than just financial worth. Here are ten cool artworks created from coins.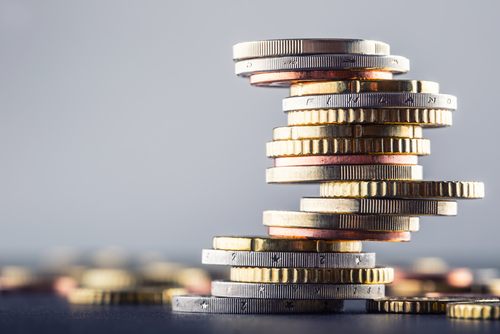 10. Adrian Firth – Lizzie
London-based Adrian Firth's rather cheekily titled "Lizzie" is a tribute in pennies to the U.K.'s Queen Elizabeth II, and it's one of the artist's several coin portraits of prominent figures in the world of finance, politics and royalty. Firth painstakingly placed the currency for this piece onto an MDF board in 2008, and the finished article has since been exhibited at the London Ripley's Believe It or Not museum. It is also available to buy as a limited edition screenprint as well as a more colorful counterpart. However, we think that Her Majesty's crown could possibly do with a bit of the sparkle from one of Firth's other works – a portrait of hip-hop star Jay Z, made out of a blingtastic 22,500 Swarovski crystals mounted on Perspex.
9. Stacey Lee Webber – American Flags
These versions of Old Glory are part of Philadelphia-based Stacey Lee Webber's rather patriotically titled "God Bless America" series from 2011, which also sees a ribbon, lamp and chains made wholly or in part out of pennies. The pieces above are created from steel, brass and one-cent coins, and their familiar stars and stripes have been painstakingly cut to make an accurate, if less colorful, rendition of the U.S. flag. Other works by Webber include an array of tools used by craftsmen, such as saws and a hammer, comprised of dimes and quarters. Webber says that her work is a tribute to ordinary American families and "the blue-collar work ethic that binds the heart of the United States."
8. Ted Stanke – Colt .45
Brooklyn's Ted Stanke has said of his unusual versions of firearms, "Turning money into art is cool enough, but turning it into weapons is even cooler." His creations are certainly safer than the average gun, anyway, and we have to admit that this replica Colt .45, which Stanke made in 2009 from coins and epoxy, does look pretty cool too. The artist has also crafted a version of a Smith and Wesson .38 Special from similar materials, for which, he has quipped, "private collectors are the target." However, for those who'd prefer to remain unarmed, Stanke still has plenty of other works that you might want to shoot off to buy, including coin-based versions of a 35mm camera, a third-generation iPod and a pair of handcuffs.
7. Ed Chapman – Nelson Mandela
Ed Chapman proved that he can make money out of art when one of his pieces – an incredible mosaic of Jimi Hendrix comprised of thousands of Fender guitar plectrums – fetched over $36,000 at a charity auction in February 2011. However, Chapman can also make some rather amazing art out of money, as the above portrait of Nelson Mandela shows. Measuring 44 by 31 inches, the instantly recognizable image of the former South African president used an astounding 5,340 pennies in its composition. The British artist has also created mosaic works of pop-cultural icons including Albert Einstein, John Lennon and Marilyn Monroe in pieces of ceramics and stone tiles. And if you'd like to be among such illustrious company, you can even get in touch with Chapman for your own specially commissioned portrait.
6. Paul Van Scott – Panda Bear
This panda may not be as cuddly as its real-life counterpart, but it's still a lovely sight. Moreover, up close it's just as impressive, as the hundreds of "treasure coins" of which it is comprised reveal themselves. It's not the only piece that its creator Paul Van Scott has made out of unorthodox materials, either; he has made up mosaic versions of basketball player Derrick Rose out of Skittles candy, JFK using campaign buttons, and even a pirate ship crafted from real gold. Limited edition prints of the panda can be bought from the Florida artist's Final Score Products website along with images of many other mosaics of sports stars, musicians and movie-related images. You can even have the adorable animal printed onto a greeting card for that special someone.
5. Sagmeister & Walsh – Obsessions Make My Life Worse and My Life Better
This brilliantly intricate mural wasn't actually engraved onto the streets of Amsterdam, as it might seem from first glance, but instead is made up of a cool 250,000 Euro one-cent pieces. It was the brainchild of New York City design firm Sagmeister & Walsh, which also creates commercials, apps, films and websites. However, this time the company took to the capital city of the Netherlands to make the eye-catching piece, covering an area of over 3,200 square feet in Waagdragerhof Square. Over an eight-day period in September 2008, over 100 volunteers assisted Sagmeister & Walsh in sorting the coins by color tone and positioning them in the space. The work was then left unprotected so that the public could interact with it – but not for long. After one person was spotted bagging up the coins less than a day after the piece's unveiling, the police were called, and officers promptly took away every single cent.
4. Robert Wechsler – The Mendicant
For Robert Wechsler, the penny isn't just something that can be found under the cushions of the couch, but rather "a monument to a beloved president," "a proclamation of a national faith and creed," and "a time-stamped record of our civilization." Perhaps this greater significance is why, in 2012, the artist chose to incorporate pennies into a trio of attractive cubes, with 26,982 of the coins included in the largest. One of the cubes comprises pennies claimed from a wishing well, with their striking array of colors due to their reacting to chemicals and water over a period of time. Another also acts as a sort of historical document, as it is produced using pennies featuring the Lincoln Memorial made before the switch to copper-plated zinc in 1982.
3. Niso Maman – Fortuna
Florida-based Israeli artist Niso Maman's sculptures often use the traditional artistic image of the female or male nude but render it in something other than clay or stone. The name of the piece pictured above wittily points to the matter of which it is made – brightly shining Israel agorot coins – and despite its out-of-the-ordinary composition, it could sit perfectly well alongside more classical sculptural renditions of the body. It's just one of several versions of the female torso that Maman has created out of unusual and intriguing objects: there are also anatomically accurate models made using nails, keys, tumbled glass and even eye-catching red washers. Despite this work, however, in the past Maman has also used more conventional materials such as marble, bronze, steel and onyx.
2. Ann Carrington – Manhattan Mettle
British artist Ann Carrington took her cues from a city on the other side of the pond for this stunning rendition of the New York cityscape. The piece – which measures a huge 26 by 16 feet and took elements from 1930s photos of Manhattan – was originally commissioned in April 2011 to sit on the lobby wall of Hoboken's W Hotel. For the work, Carrington has stated that she was inspired by the metal cranes, anchors and hooks of the New Jersey city's old docklands and waterfront. She has paid tribute to these through the materials used in the work, which sees a view of New York from the other side of the Hudson River intricately comprised of objects including nails, pins, chains, subway tokens, dimes and dollar coins – the latter of which make up the bank in the image.
1. Wander Martich – Helping Mom One Penny at a Time
Michigan mom Wander Martich's gigantic creation was inspired by her own time pinching the pennies after losing her job and home and undergoing a divorce. At the time, Martich's two daughters gave her some coins that they had taken from their piggy banks that she then put into a water jug for safekeeping. The pile of loose change grew and grew, as once Martich took on a new job, she contributed $20s' worth of pennies from each pay packet she received. Eventually, Martich felt that she wanted to tell her story of saving her way out of tough times the only way she knew how – through art. 84,000 pennies – some taken from the U.S. Mint for their shininess – went into creating one huge one, and the stunning, multihued result went on to earn sixth place at Michigan's ArtPrize contest in 2010.