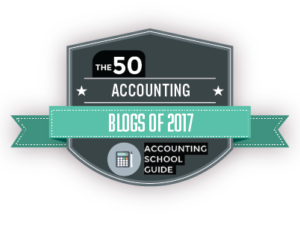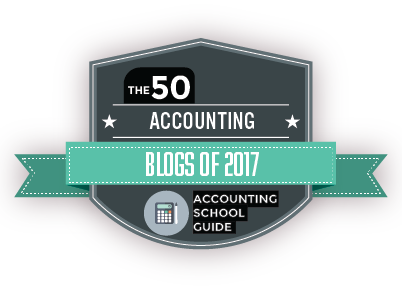 The new year has brought about many important changes in the accounting industry, for practitioners and for those looking to make the most of personal accounting knowledge. The pending overhaul of the Affordable Care Act and new business tax structures; the — still — particularly precarious financial planning positions of many Americans since the recession; the rise of cloud accounting and a host of productivity and business tools that practitioners and people doing their personal accounting can both benefit from, and luckily, an ever-growing and established knowledge-base and accounting professional community aimed at sifting through all of these developments to deliver top notch advise and content. This year we looked at a group of several hundred particularly compelling top accounting blogs to bring you our list of the "50 best" for 2017. We settled on sorting the blogs through an impartial metric called the Ahrefs rank of a site. This metric takes into account the quality and number of other sites that link to a site, a clue as to whether or not that site is providing top-tier and pertinent content for its user base and the broader community. So without further ado, many blessings in the new year and we hope you enjoy our ranking of the top 50 accounting blogs of 2017!
Unsurprisingly as the blog of one of the few major corporations in our list, Intuit's Firm of the Future blog blends polished presentation and readability with tech and cloud accounting tips for forward looking accountants. Check out the blog's many subsections up top to see the full extent of the site's offerings: efficiency, growth, client relationships, training and CPE, and product and industry news.
The second Intuit-based blog in our ranking centers around news about the broader community of accountants with unique polls and insights into the state of the accounting industry. Roughly one bite-sized post a day makes this a great way for practicioners and students to garner quick acumen and new perspectives through this corporate blog.
Reed Tinsley's blog draws from his diverse talents (physician CPA, health care consultant, Certified Valuation Consultant, speaker, and author) to deliver insights particularly suited to those in healthcare administration and medical accounting. The blog is a great resource for students and practicing accountants to discover more evergreen, though-provoking materials such as Reed's 10 Principles of Excellent Client Service, a range of video content, and several speech recordings. There's also a section for medical practioners seeking to gain a better understanding of accounting matters in their industry.
AICPA (the American Institute of CPAs) blog draws from it's large community of constituent accountants to host a wide range of bloggers posting on almost any accounting topic one could want to learn about. The blog is a great resource not only for accountants, but for small business owners, those trying to understand estate planning, and frankly anyone interested in increasing their financial literacy.
One of the biggest names in global business information, Bloomberg BNA's Accounting Blog draws on Bloomberg's extensive legal, tax, and technological resources to offer insight on today's accounting news. Updated daily, the blog covers today's biggest global industries, from tech to finance to politics. It also provides Tax and Accounting services that integrate news, practice tools, and primary sources with Tax Management Portfolios, enabling it to offer in-depth analysis of tax and accounting topics from over 1,000 field-leading professionals.
A leading resource for CPAs, Accounting Today serves tax professionals, bookkeepers, auditors, financial planners, and business consultants to help them stay up-to-date on the state of the accounting industry. Accounting Today reaches an audience of over 325,000 working professionals, making them one of the largest hubs of business-to-business news in the industry. Designed to provide a leg-up for accountants with questions about the profession, the blog is great for individuals training to be part of the trade.
Direct Capital provides small and medium-sized businesses with lending services designed to encourage capital growth. Having lent over $2 billion to over 80,000 buinesses for over 20 years, Direct Capital knows how to implement a secure accounting strategy. They also know how to keep up a good blog, and their posts on topics as diverse as sales, tax season, and the principle of giving will help small business owners far and wide achieve their accounting goals.
An arm of the American Institute of CPAs (AICPA), the Journal of Accountancy keeps accountatnts up-to-date on breaking news about tax, auditing, financial reporting, and technology, among other topics. Being one of the most reliable, resourceful, and respected sources attached to the AICPA, the Journal of Accountancy for the distribution of educational information regarding new developments in the field of accounting. Its blog is suited to accountants with a fair bit of financial literacy, but it also serves up a good bit of general information on developments in other industries that have the potential to affect accounting strategies more generally.
AccountingWEB is one of the foremost sources of news, software tools, and guidance for the online community of accountants. AccountingWEB uses its voice to encourage accountants to make a bigger difference than they are often perceived to be making. Inasmuch, its blog is an inspiring resource for accountants who want to participate in important changes taking place across the industry, especially online.
A small business online payroll service, SurePayroll offers payroll tax services, accounting services, and 401k plans. SurePayroll's blog provides key insights into the economic landscape for small business accountants. Its blog is especially useful for small business accountants who are beginning their practice and would like to know more about the larger status of the profession amid broader political and economic changes.
11.) Financial Reporting and the Law
Morgan Lewis is a global law firm that practices financial, international, and commercial litigation that includes tax and estate planning forms of law, among others. Its blog informs both the company's clients and the broader populace of the latest developments and financial regulations affecting how businesses and industries operate their accounting practices. Up and coming accountants who are planning to specialize in largescale financial services would do well to pay attention to this series of law blogs.
As an employee-tracking software with GPS capabilities, TSheets keeps its hands full with the small business accounting burdens of payroll, reporting, and invoicing so small businesses accountant don't have to worry about them. Its blog houses a vertiable goldmine of actionable advice for small business owners on topics as diverse as entrepreneurship, time-tracking, and how to increase workflow. It is especially useful for the small business accountant who is looking for innumerable new ways to solve old problems.
The premier professional CPA association of New York State, NYSSCPA provides resource for certified public accountants throughout the Empire State. A veritable mainstay of accounting in New York since 1897, NYSSCPA supports and represents the interests CPAs at every level. Its blog is a must-read for accountants across the board, especially those who are interested in how current evens impact the practice and profession of accounting.
14.) Financial Reporting
Financial Executives International is an association established for senior finance executives to provide networking, advocacy, and continued professional education on issues of financial literacy. Such issues include financial management, reporting, and strategy. FEI's blog is particularly relevant to accountants who have learned how to report financials and need news about current developments that may affect their practice.
15.) National Society of Accountants: NSA Blog
Not to be confused with the National Security Administration, the National Society of Accountants (NSA) is one of the foremost professional associations for tax and accounting professionals in the United States. NSA's members represent more than 30,000 independent practitioners who provide accounting services to over 19 million clients. Its multiple blogs include Life & Taxes, as well as the Main Street Practitioner, both of which are excellent resources for incoming accountants who are looking for general news about the accounting industry throughout the United States.
AccountingCoach is the largest accounting course available both online and for free in the world. Ths self-paced course covers everything from Accounting Basics, to Bookkeeping, to Nonprofit Accounting, to Accounting Careers. The blog's Q&A Archive answers over 1,000 questions that are organized according to their relevance to current and previous tax seasons. It is the perfect resource for accountants who may need help explaining the nuances of the trade to their clients (and sometimes themselves) in laymen's terms.
An automated sales tax reporting and filing service TaxJar is designed specifically for online sellers and merchants. Offering this service in all U.S. state with sales tax, TaxJar allows accountants for online vendors to spend less time worrying about compliance and more time devising efficient workarounds to save money and maximize profits. The Sales Tax Blog is especially relevant to accountants who work in eCommerce or want to understand more about the sales tax differences between states.
TaxProf Blog is a hub of news, information, and resources designed for tax professors. As part of the Law Professor Blogs network, TaxProf is edited by professor Paul L. Caron of the prestigious Pepperdine University School of Law. Its posts are most relevant to tax and accounting professors, but they can also be quite useful for CPAs who are looking for authoritative answers to big questions about current events revolving around politics, economics, and the IRS.
A small business accouting software, LessAccounting is designed for small business owners and personnel who are not accountants. It offers cloud-based bookkeeping and guaranteed data safety for small businesses, and its blog offers general information on topics as diverse as Fair Labor Standards, appropriate invoicing practice, and how to deal with an audit.
Accountex Report is a global and collective network of accounting professionals who exchange tools, educational materials, and career connections. A member of The Sleeter Group, Accountex's goal is to provide high-quality accounting solutions for small and medium-sized businesses, as well as the consultants who support them. The blog is beautiful resource for accounting consultants who require technical information and advice on accounting software and the best, most up-to-date business practices in the accounting industry to date.
The lookout post and home of CPAs in Maryland and beyond, MACPA Blog exists to help CPAs, students, and educators live up to their full potential. MACPA works to connect and protect accountants, as well as help them achieve their career goals. The MACPA blog is a wonderful resource for Marylanders, as well as accountants around the globe who want to know how they may be affected by local, regional, and global changes in financial policy.
22.) CPA Now
CPA Now is an arm of the Pennsylvania Institute of Certified Public Accountants (PICPA), a resource center for anyone seeking accounting advice in Pennsylvania. Founded in 1987, the organization is the second-oldest CPA organization in the United States. Its blog provides regular updates on the state of the field for traditional and online accounting professionals, especially those located in Pennsylvania.
As a cloud accounting software, Hubdoc allows accountants to organize key financial documents in one place. Based on automated data-entry and organizational methods, Hubdoc simplifies the conversion and distribution of financial information, especially for accountants who are called upon to spend more time leading the business rather than doing paperwork. Hubdoc's blog is especially relevant to small business owners and personnel who may want to learn more about how they be both an accountant and an owner simultaneously.
The Corporate Counsel is an educational service provided by legal experts to guide accountants and corporate leaders through thorny legal issues surrouding corporate governance. Having offered their services for over 40 years, The Coroporate Counsel is well-versed on laws that affect accountants most, which is why its many blog collective has multiple experts dedicated to accounting law. An excellent resource for accountants seeking expert legal advice.
An accounting blog first and foremost, Digital First concerns itself with imagining a future where accountants play a bigger role in interpreting data to discover the most efficient ways to grow their client's busines. Covering the latest news and well-thought-out opinions on accounting technology, Digital First values tech-savvy above all, working to ensure readers keep up-to-date on the most recent advances in the world of accounting technology. A perfect resource for accountants who don't want to miss out on the newest and brightest ideas and gadgets to impact their profession.
AccountingDepartment.com is a virtual accounting bookkeeping service that is designed to help small to medium-sized businesses grow their annual revenues. Inspired by a desire to help businesses make the best business decisions possble with their financial data, AccountingDepartment.com's blog is especially relevant to small business personnel and accounting professionals who want fast tips to maximize both financial efficiency and literacy.
A directory of over 475,000 tax and accounting professionals throughout the United States, TaxBuzz connects accountants with clients in all 50 states. TaxBuzz is Free for accountants to join and prospective clients to join, allowing a personal touch and contractual independence not always enjoyed from tax filing firms.
Cherry Beckaert is one of the largest CPA firms in the world. Headquartered in the United States, Cherry Beckaert has provided tax, audit, and advisory solutions for over 69 years, as well as served thousands of clients while adapting successfully to numerous changes in the accounting industry. Cherry Beckaert's blog is a key resource for accountants who pay attention to legal cases surrounding their profession, as well as for newcomers who want to learn what issues concern longterm accountants the most.
Independently run by a native Texan, Kay Bell, Don't Mess With Taxes is an accessible and informative tax blog. As a professional journalist, Bell knows her way around a simple explanation of such popular and complex topics as the IRS and current political events, like Donald Trump's tax returns. Her blog is especially useful among accountants young and old who need answers to popular questions about their professsion, whether for a client or for themselves.
Accounting Principles is a news network and staffing service for accounting professionals seeking jobs or hiring within the industry. As a member of the Adecco Group, a global 500 company and leader in professional staffing services, Accounting Principles is well-suited to match accountants with clients new clients and vice versa. Their blog is especially useful for accountants on the job market, or working accountants who want general, well-written advice for the workplace.
A straight-laced but light-humored business blog, Going Concern offers regular updates on the state of accounting for professional firms and accounting students alike. An excellent resource with some strong opinion thrown into the mix, Going Concern will help any accountant through the uncertainty of both job and job market.
ASPCA Blog, not to be confused with the American Society for the Prevention of Cruelty to Animals, is a the news mouthpiece of Arizona's Society fort Certified Public Accountants. The blog mostly covers local accounting, tax, and financial reporting, but it also works to educate and advocate for greater financial literacy among the general public. It is a great resource for accountanting professionals who reside in or may be relocating to Arizona.
The official blog of the Indiana CPA Society, I was just thinkin' is as independently minded as its title. While many of its posts cover local developments, an equal number cover topics as diverse and varied as Generation Z, Millenials, self-taught accounting, and what it means to march to the beat of your own drum. Accountants new and old to the profession will find its opinions well-informed and its reporting on recent developments a breath of fresh air.
Big4 is a career network and news hub for accounting and consulting firms who are industry leaders. The Big4 blog features interviews with some of the biggest names in the accounting industry, as well as advice on how to land a big time job. A great resource for accounting professionals who are looking to take the next big leap in their careers.
35.) The VeraSage Institute
The resource of revolutionary thinking for professional knowledge firms, The VeraSage Instiute is a think tank that includes professionals from every industry. Its cutting-edge accountants, like its other professinals, are encouraged to declare their independence from the convention of billable hours. Accountants with a free spirit will find their blog liberating in its encouragement of innovation and entrepreneurship.
Summing It Up is a hub of accounting advice on tax, audit and financial issues. As the news outlet for Freed Maxick, a large, interdisciplinary firm with practices in five accounting areas, Summing It Up offers one of the most comprehensive and independent resources in the accounting blogosphere. Accountants across the board will find this blog relevant to answering almost any question thrown at it, both succinctly and accessibly.
Based in Austin, TexasFourlane is an accounting and consulting agency that supports a growing body of regional offices across the United States. It primarily serves small-to-medium sized businesses with CFO services, financial systems consulting, and tutelage in QuickBooks software. Its blog is especially helpful for small businesses that are expanding and have questions about how to best maximize their growth and earning potentials.
38.) Transaction Pro for QuickBooks Blog
Transaction Pro for Quickbooks Blog is the brain child of Bay State Consulting and accounting guru, Karen Magno. Karen's blog is dedicated to providing support for those struggle to learn and use QuickBooks, as well as offer tutelage in the software Transaction Pro, which allows accountants to import QuickBooks data into company files for easy use. An excellent resource for accountants who are new to QuickBooks, or who just want an easier way to distribute and translate all their financial data between clients, companies, and other agencies.
Led by esteemed fraud examiner, Tracy L. Coenen, Fraud Files is dedicated to exposing and exploring the nuances of forensic accounting. The blog explores topics as diverse as the accounting issues inherent to multi-level marketing schemes, divorce, and faulty financial reporting. An ideal resource for accountants who are interested in forensic accounting, auditing, or just curious about what not to do in their careers.
Kaufman Rossin Blog is the communication piece of one of the top 100 professional services firms in the United States, Kaufman Rossin. Having served clients for over 50 years, Kaufman Rossin knows its way around the myriad issues that crop up around the practice of accounting. Its blog is a solid resource for news and advice on current and future developments in the profession.
Ahrefs Page Rank: 1005835
41.) Global Tax Blog
As the global-oriented mouthpiece of KLR, one of New England's premier accounting and business consulting firms, Global Tax Blog considers accounting from a global perspective. It covers topics as varied and diverse as China's eCommerce industry, moving to another country, the implications of current events for current accounting practices. A highly topical blog for accountants everywhere, especially those who like to stay on top of developments in the global economy and their implications for accountants across the world.
Ahrefs Page Rank: 1179038
Schneider Downs Insights offers a boon of thoughts and ideas about how to practice accounting across a variety of industries. These industries include manufacturing, transportation, and government, about which Schneider Downs offers accounting advice to help balance the books so that business leaders can spend more time leading than filing paperwork. A good resource for small-to-medium sized business leaders who need accounting expertise and advice on their side.
Ahrefs Page Rank: 1222827
A firm composed of accounting coaches, Blumer CPAs was established to help small businesses grow into big businesses while dealing with the financial complexities that accompany such growth. Its blog covers issues such as risk planning, teambuilding, and entrepreneurship, all with accounting in mind. A winning resource for small business owners and accountants who appreciate Blumer's skill at condensing the complex into the simple.
Ahrefs Page Rank: 1322373
re: The Auditors provides blistering blog posts and incisive news updates surrounding goings on at the the Big 4 audit firms. Financial journalist and owner Francine McKenna covers the roles, responsibilities, and regulations of the these four firms and their influence on the accounting industry across the globe. Accountants who want to know what the big dogs are up to would do very well to follow this blog.
Ahrefs Page Rank: 1481822
Providing news on accounting and financial advice from the exceptional accounting firm, MFA (Moody, Famiglietti, and Andronico), MFA Business Insights is a go-to resource for accountants at the national and global levels. MFA Business Insights primarly covers issues that pertain to accountants who want to move up in their careers, but it also contains relevant news and adivce for those with general questions about the profession. An excellent resource for any accountant with big questions and ambitions.
Ahrefs Page Rank: 1736330
GrowthForce is a professional service company that helps businesses with their bookkeeping. Its blog offers advice on key ways to strengthen and optimize financial operations and general business practices. A solid resource for accountants who want new business, as well as new businesses who need accountants.
Ahrefs Page Rank: 1747498
The blog of distinguished Dallas accounting firm, Whitley Penn, In the Black is well-known both locally and nationally for its relevant news updates for accounting professionals. In the Black covers everything from cybersecurity to risk managment to estate and presidential tax plans. A star resource that accounting professionals in and around Dallas shouldn't miss.
Ahrefs Page Rank: 1887710
White Collar Fraud is an investigative blog written to cover the issue of white collar crime from the first-person perspective of Sam Antar. An ex-con and CPA who was convicted of a number of white collar crimes cerntering around his accounting practices for a firm called Crazy Eddie in the 1980s. Antar now works with law enforcement professionals to teach people how to recognize white collar crimes as they are committed by accountants today. A great resource for any accountants interested in forensic accounting or the myriad legal issues surrounding the profession.
Ahrefs Page Rank: 1912634
Run by Russ Fox of Clayton Financial and Tax in Las Vegas, Taxable Talk is a blog dedicated to informing accountants about general tax problems (and sometimes their solutions). Taxable Talks covers such topics as California tax codes, appropriate 1099 form usage, and due dates for tax filers everywhere, whether the filer is an accountant or not. An solid resource for accounting professionals (and non-accounting professionals) who appreciate a wry sense of humor with their news.
Ahrefs Page Rank: 1945159
Joe Mastriano is a CPA and tax resolution professional with over 30 years of experience in the industry. His blog primarily contains updates that his clients would find of interest, but it is also could be of use to the entrepreneurial CPA who is looking for a model on which to base their own firm. A solid resource for accountants who are just starting out, as well as small business owners who need help filing their taxes.
Ahrefs Page Rank: 2177700