Share this infographic on your site!
Cheating the System: Biggest Tax Evasion Cases in American History
Nobody likes writing a check every year to Uncle Sam. Some of us hate it so much that we just don't do it. Here is a look at some famous tax evaders — who got caught.
Lauryn Hill
Famous for: Music
Tax bill: $2.3 million
Sentence: The Grammy-winning singer served a three-month term at the same federal prison that inspired the book and show "Orange is the New Black."
Al Capone
Famous for: Crime
Tax bill: $270,000 ($4+ million in today's dollars)
Sentence: The gangster known as Scarface spent over seven years in prison in Atlanta and at Alcatraz.
Wesley Snipes
Famous for: Acting
Tax bill: $7 million
Sentence: Once one of Hollywood's most bankable stars, Snipes served a three-year prison sentence and has returned to acting.
Pete Rose
Famous for: Baseball
Tax bill: $410,000
Sentence: Baseball's career hits leader served five months in prison in Illinois. A decade-and-a-half later, Rose again was hit with a bill for back taxes, to the tune of $1 million.
Willie Nelson
Famous for: Music
Tax bill: $16.7 million, later negotiated to $6 million
Sentence: Blaming his accounting firm, Pricewaterhouse Coopers, the country music icon managed to avoid prison by paying off his IRS debt in part through a double album release titled The IRS Tapes: Who'll Buy My Memories?
Richard Hatch
Famous for: Reality TV
Tax bill: $2 million
Sentence: The first-ever winner of pioneering reality show "Survivor" spent more than four years in prison, split between two stints (the second of which happened when he failed to pay the IRS after serving his first term).
Leona Helmsley
Famous for: Business
Tax bill: $7.1 million
Sentence: The "Queen" of Helmsley Hotels served 21 months of a four-year prison term after a sensational trial in which it was alleged that Helmsley had said, "We don't pay taxes. Only the little people pay taxes."
O.J. Simpson
Famous for: Football, acting and crime
Tax bill: $500,000
Sentence: While serving a prison term for armed robbery, the Heisman Trophy-winning football player-turned-actor famously acquitted for murder has been slapped with multiple tax liens by the IRS.
Walter Anderson
Famous for: Business
Tax bill: $200+ million
Sentence: In the largest-ever criminal tax case against an individual, the telecom entrepreneur who once tried to rescue the Mir space station served about six years in prison and is still fighting his case.
Joe Francis
Famous for: Business
Tax bill: $250,000
Sentence: The creator of the less-than-venerable "Girls Gone Wild" video series pleaded guilty to filing false returns and bribing Nevada jail workers, serving about 10 months in jail.
Spiro Agnew
Famous for: Politics
Tax bill: $10,000
Sentence: Only the second vice president in U.S. history to resign, Agnew pleaded no contest to tax evasion in exchange for prosecutors dropping political corruption charges. He received three years' probation.
Lindsey Vonn
Famous for: Olympic skiing
Tax bill: $1.7 million
Sentence: The gold medalist avoided prison by reportedly paying her entire tax bill. She continues participating in, and winning, downhill skiing events.
Martha Stewart
Famous for: TV, magazines
Tax bill: $220,000
Sentence: She avoided jail time for back property taxes and penalties on a home she owned, but served time in a federal prison for insider trading a few years later.
Abbott and Costello
Famous for: Comedy
Tax bill: Estimated at least $500,000 ($3.9 million in today's dollars)
Sentence: Toward the end of their comedy relationship, the beloved duo were forced to sell off assets, including homes and the rights to many of their films.
Ty Warner
Famous for: Business
Tax bill: $5.5 million
Sentence: The Beanie Babies creator was sentenced to probation, though prosecutors are attempting to appeal for jail time.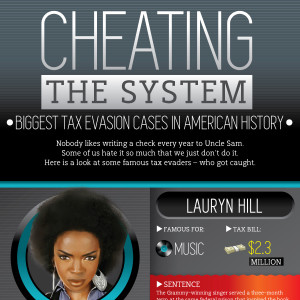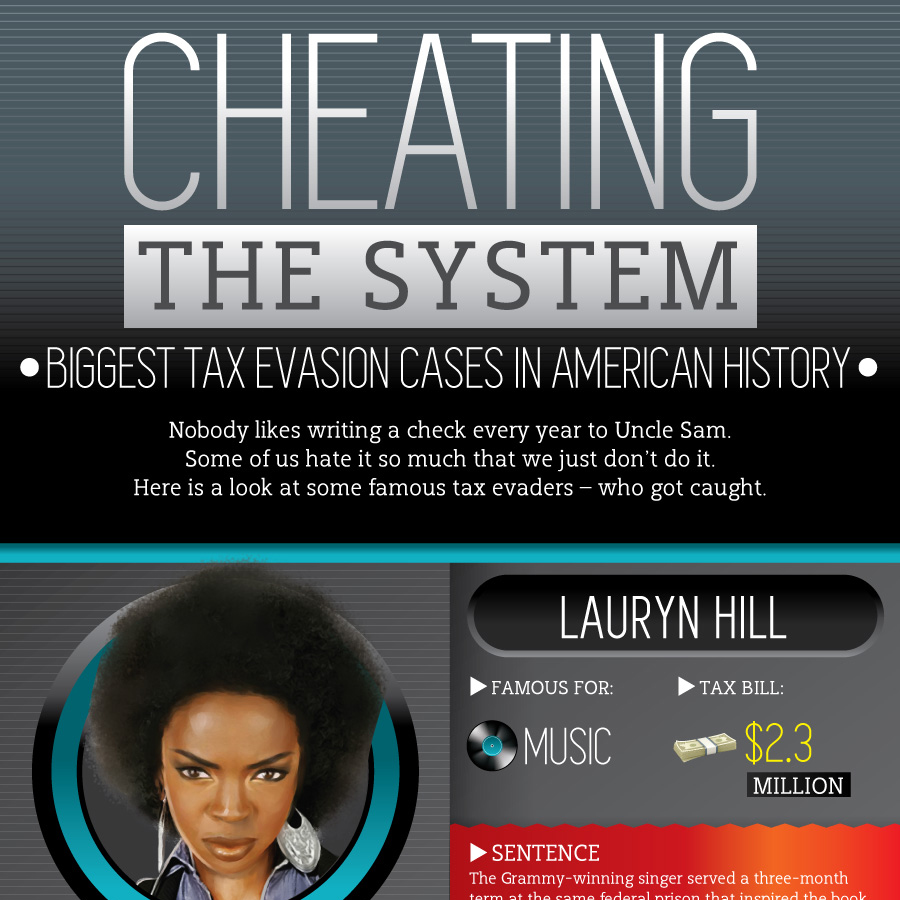 Sources:
http://www.rollingstone.com
http://www.cnn.com
http://www.fbi.gov
http://www.usatoday.com
http://content.time.com
http://www.businessinsider.com
http://www.forbes.com
http://www.nydailynews.com
http://www.biography.com
http://www.history.com
http://www.examiner.com
http://www.washingtontimes.com
http://www.nbcnews.com
http://federaltaxcrimes.blogspot.com
http://articles.latimes.com
http://abbottandcostello.net
http://www.taxdebthelp.com
http://www.chicagotribune.com